Customer Reviews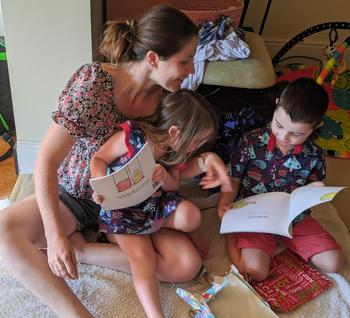 01/04/2021
The best books I purchased in 2020
These books are the sweetest. The illustrations are very kid friendly and the messaging of the books share love and comfort. While my little one is a bit young to understand it all for the time being I also bought 'I got you some kisses' and 'the gift of cuddle' for my niece and nephew who live in Brisbane, Australia, and boy did they love them. They had read the books 5 times over in a matter of 6 days.
Rebecca M.

Australia
07/03/2021
Very appealing gift for a baby or small child
They reflect the love that we feel.
Kathleen C.

Australia
07/01/2021
Three bundle review love
We love love love these books. Everyone we have given them to as baby presents have said these are the books baby favours. Will forever be a loyal book buyer here.
Megan

New Zealand
07/01/2021
Lovely books
The stories are so cute and lovely. Children will definitely love hearing these stories. Books are well made and the illustrations are very cute, definitely a must have for young children.
Abryl S.

United States
06/04/2021
Books for everyone
They are lovely books with a fabulous message and the relation to the toys is lovely too. It's like there is a book for everyone! Mum/dad, and both kids.
Georgina H.

New Zealand
06/01/2021
Great Grandson's Favourite
Received a photo of my 2 month old Great Grandson, Son of my Granddaughter, reading....Ten Little Kisses For You....to him while he intently watched on. Message said...it's his favourite! Melted my heart all over again for him and her. Intentionally purchased it being aware it can take approximately 4 months for Babies to see in colour. Love that the kisses are washable too.
Allison H.

Australia
04/04/2021
Wonderful Collection
Was thrilled to get the set of books. They are so beautifully illustrated and great stories. My wee new Granddaughter loves to focus on the black and white illustrations.
Alannah M.

New Zealand
04/02/2021
Bought the bundle of
Great story books. I can't wait to read them then my granddaughter.
Roxana R.

Australia