Customer Reviews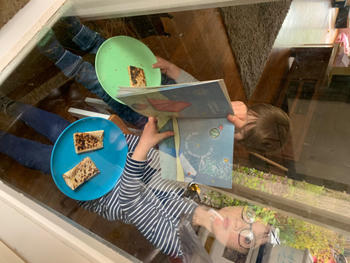 08/23/2020
The Gift of a Cuddle
I purchased both the Cuddle and Kiss books for my granddaughter's 5th Birthday- knowing that due to COVID I couldn't actually go into her house. I've read them to her through her window and via online. Loved them, she tells me that when she needs a grandma cuddle or kiss she gets them out looks through them herself. As a teacher I thought the rhyming nature of the text was excellent , she Soon figured out when she needed to turn the pages by listening to the rhythm and sound of the words. A big that gives comfort , has a little humour, teaches and is very cutely illustrated. Thank you !
Heather L.

Australia
07/02/2021
Gift of a Cuddle
Both books are lovely. The family / child I bought them for were absolutely delighted .
Merrill R.

Australia
06/11/2021
Beautiful
I bought the first book actually I bought two for my great grand daughters who are just babies and they love them
Ann B.

Australia
06/02/2021
Cuddle paperback and bag of Kisses
I brought them for my twin 3 year old grandsons s an alternate to the Easter egg hunt. I didn't know how they would go but they loved them. One had been having sleeping for a while and hasn't had them out of his sight. And scatters the kisses all through his bed at night. No more problems. I bought another set for my great niece for her first birthday and she also adores them and carries the bag around like a handbag. The price is a bit high but they are unique and I haven't seen anything like them in Australia. My other daughter has just had her first baby my first granddaughter in Canada so I will be ordering again soon. Great concept. Well done
Debbie C.

Australia
06/02/2021
Adele C.

New Zealand
04/02/2021
Children's books.
Absolutely beautiful story, so meaningful, so happy to give as gifts.
Glenys A.

Australia
03/03/2021
The next best thing to a cuddle!
I love the quality of your products.
Linda H.

Australia
02/15/2021
Such a lovely book!
It's wonderful to be able to share this with our loved ones abroad.
Julie-Anne M.

New Zealand